Quick and Easy
Online SMS Services
Grow your business in the next 5 minutes
with professional A2P messaging
Scale conversations and create better customer experiences
Elevate your business with SMS solutions, designed to launch in 2-8 minutes.
Quick Wins

Increase Sales

Customer Retention

Streamline Operations
min
Average Quick SMS Launch time
+
SMS marketing resources and templates available
+
Quick start direct or zero-code integrations
Launch a bulk SMS campaign in less than 2 minutes with our easy-to-use online portal, or customise our services to suit your business via SMS API or an integration.
Enhance customer experiences by scaling your conversations with SMS. Take advantage of the immediacy that SMS offers to increase revenue quickly.
Keep your best customers engaged at scale with highly personalised messages. Set automated rewards to trigger after a specific milestone.
Automate or schedule repetitive tasks to make all your processes more efficient. Move important alerts to SMS by setting up a group chat.
Your online SMS command centre
Send campaigns, schedule messages, or track analytics in real-time with our online text messaging service.
Enterprise-grade
SMS API
Choose a feature-rich SMS API that you can rely on. Get started with our extensive documentation, designed to help developers to deploy quickly with a wide selection of HTTP callbacks.
Deploy SMS fast with our quick start API docs. Perfect for developers new to SMS, or for advanced users looking for extensive features.
Trigger alerts for SMS deliveries or incoming messages with HTTP callbacks. Callback URLs are notified immediately after an event occurs.
Generate delivery level reports with a single send-sms call. Your DLR callback is the default URL we post incoming DLRs to.
Hardware redundancy is fully managed by AWS EC2. Route 53 for DNS. Supplier connection redundancies are also in place. Server up-time is 99.9%.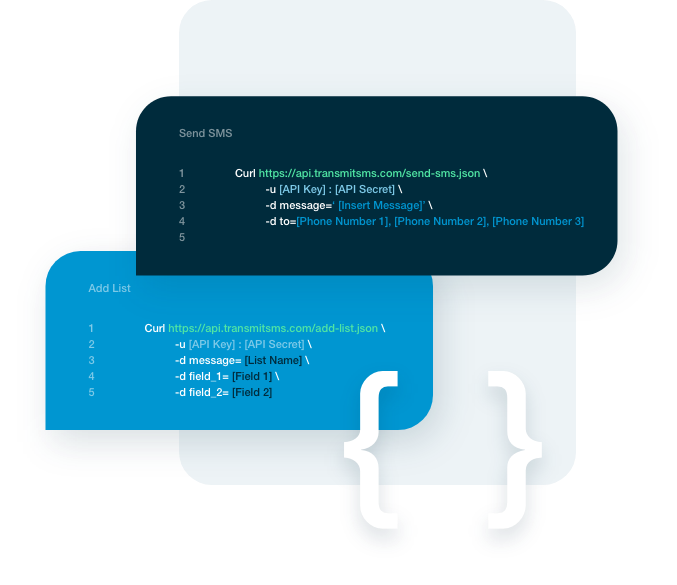 Rebrand our platform as your own
Launch a White Label SMS Service in less than 10 minutes. Simply apply your branding, choose a pricing model, and set custom permissions.
It takes less than 10 minutes to become an official reseller. Simply upload your logo, choose your platform colour, support link, and get assigned to a dedicated virtual number.
Offer a monthly plan, charge per SMS message, or launch a highly flexible all-inclusive texting package for your clients to choose from.
This reseller service gives you lots of control when it comes to setting unique account-level permissions. Set sending limits, spending limits, add multiple users to your admin account, or create sub accounts with even more flexibility.
Access our pool of 1,000+ dedicated toll-free or 10DLC numbers to issue to your customers. We have many numbers available, reducing the time it would take for you to help clients get started faster.
100% SMS Delivery to Carrier Guarantee
Access secure direct or ON-NET connections with Spark NZ, 2degrees, and Vodafone. No grey routing.
100% SMS Delivery to Carrier Guarantee
Access secure ON-NET connections with T-mobile, AT&T, and Verizon. No grey routing.
98
Enterprise Support
All accounts are assigned a Dedicated Account Manager to ensure the success of your SMS campaigns. Reach us through our live chat, call 1 888 424 0387, or email.
SMS Integrations
Launch Campaigns
Faster
Connect Burst SMS with your pre-existing tech stack with 3,000+ zero-code Zapier zaps, or from one of our direct SMS integrations.
Delivering Messages Since 2008
Create better customer
experiences through
intelligently designed
conversations.
We allow businesses to build relationships with their customers at scale in the most frictionless way possible.